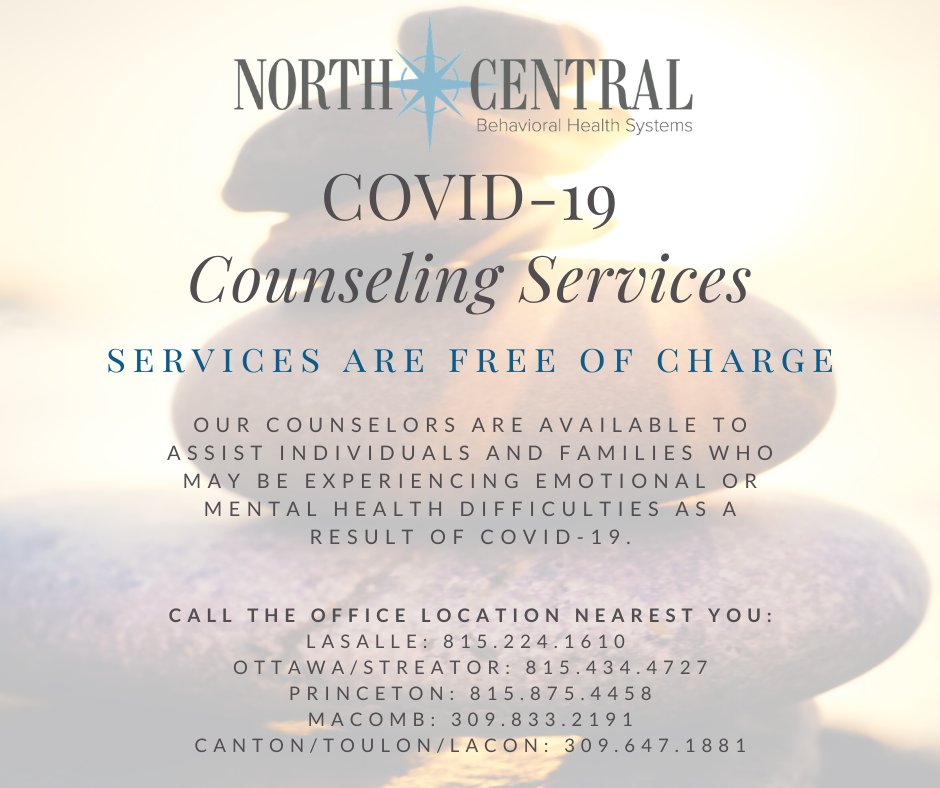 As we are continually faced with the COVID-19 pandemic, individuals may be experiencing increased feelings of fear, anxiety, hopelessness and depression.  Although these are all common reactions in times of uncertainty, it is essential that we are taking care of our mental health, the same way we are our physical health.
In an effort to better serve our community at this time, North Central Behavioral Health Systems' Counselors are now offering complimentary emotional support counseling services to assist individuals and families who may be experiencing emotional or mental health difficulties as a result of COVID-19.
If you are interested in receiving complimentary emotional support counseling services, please call our office location nearest you:
LaSalle: 815.224.1610
Ottawa/Streator: 815.434.4727
Princeton: 815.875.4458
Macomb: 309.833.2191
Canton/Toulon/Lacon: 309.647.1881
Please note: Complimentary sessions must be related to COVID-19 emotional/mental health issues.
North Central Behavioral Health Systems provides a comprehensive continuum of mental health and addictions services across La Salle, Bureau, Putnam, Marshall, Stark, Fulton and McDonough Counties in Central and North Central Illinois